The preclinical evaluation of molecules is mainly based on the use of cells in monolayer culture. As this model stays highly artificial regarding cells organization, it can only result in unrepresentative and unpredictive responses. To better
mimic the in vivo biology
and close the gap between 2D cell culture and animal models in terms of
throughput, cost and relevance
, Imactiv-3D offers a 3D cell culture models service.  
Our team of biologists has expertise in the manipulation of numerous cell lines and can also develop new protocols for 3D cell models that will best answer our clients' research questions:
 
30 cell lines available
Development of spheroids in units or included in matrix
Custom 3D cell models development: any cell line or matrix
Quality control of 3D cell models by measuring morphological (diameter, volume, eccentricity, roundness...) and functional (viability, proliferation, differentiation...) criteria
With the aim of always remaining at the forefront of technology and offering the best services to our customers, we have launched an
R&D campaign
to improve our knowledge and know-how on
organoids and bio-printed samples
. If you are interested in working with us on these subjects, please get in touch.
The
in vitro
evaluation of cell viability and cytotoxicity is a key step in the assessment of the biological activity of a new pharmacological compound or a natural product. To reach this objective, Imactiv-3D offers its expertise in cell culture, cancer cell biology and pharmacology to test your compounds using 2D and 3D cell culture systems.
---
We can provide two different approaches:
Classical molecular probes (WST1/Alamar blue…) can be combined with a fluorescent plate reader analysis to estimate EC50 or IC50 of your molecule/compound.
A PI labelling (or other specific labelling of cell death) combined with an automated imaging and cell counting analysis. This can be done together with other specific labelling such as proliferation.
We can also evaluate the effect of your compounds on the growth of 3D cell models with automatic quantification of morphological criteria.
The proliferation rate of
in vitro
cultures or
ex vivo
samples is a parameter of interest to characterize the evolution of a model over time or its response to a treatment. Based on a strong expertise in cell proliferation staining, in 2D and 3D cell models, Imactiv-3D offers services to best answer your questions.
---
We propose various options to label proliferating cells:
 
use of molecular probes such as EdU (exclusively on living samples)
use of immunofluorescence staining of proteins of interest such as Ki67
  This kind of analysis can also be coupled with
analysis of the cell cycle or cell death
for specific applications.
The detection and visualization of specific cell markers or structures by immunofluorescence while preserving 3D sample morphology is not an easy task. However, antibody labelling allow to stain a boarder range of target and that in a more specific way than dye labelling.
---
The 3D immunofluorescence principle is the same than for 2D immunofluorescence with consecutive steps of permeabilization, saturation and antibody incubation. Playing on time and solutions composition able us to adapt the protocol to best suited for 3D samples.
---
Imactiv-3D has a strong expertise in 3D immunofluorescence on spheroids and works actively to adapt tunable in-house protocol to numerous samples in size and structure such as bioprinted samples or ex vivo organs/tissues. Coupling our in toto antibody labelling method with 3D imaging and 3D analysis, will enable you to characterize and analyze our sample without loss of information.
The study of molecule diffusion is an important issue in pre-clinical study. It allows for example to follow the infiltration of immune cells into tumors or molecule diffusion into biological tissues.
---
These types of analysis cannot be done on 2D cell culture and is very costly and time consuming in animal models. The 3D cellular model is the appropriate alternative as it is less expensive than animal models and more relevant than monolayer cultures. Imactiv-3D internal research works actively on this subject to be able at short time to follow antibody penetration into spheroid models. This test/service will be particularly relevant for immunotherapy to follow the fate of a therapeutic antibody in a microtumor-like system.
---
In parallel, Imactiv-3D is also working at the detection and analysis of immune cells penetration on 3D cellular model within a European consortium. This work is under progress but we already have some promising results. In further applications, Imactiv-3D will also work on transferring these technologies within more complex models such as bioprinted tissues or ex vivo organs.
In pre-clinical studies, there is a need to test a large number of drug candidates. To address this issue, Imactiv-3D has access to imaging facilities allowing high content screening (HCS). We can offer several microscopy technologies coupled with automatic plate readers to best fit your needs (wide-field, confocal spinning disk or structured light).
---
Using the confocal spinning disk, we routinely study monolayer culture of pre-adipocytes and quantify in 3D the lipidic accumulation in lipid droplets or the matrix production with quantification of a density of collagen and fibronectin fibers.

Quantification of lipid droplets in preadipocytes
Read more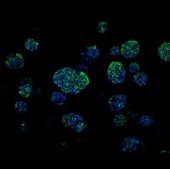 3D Quantification of multispheres growth in various scaffolds
Read more
Using the structured light automated microscope, we have developed a procedure to test compounds on 3D multispheres models embedded in matrix. A robust statistical analysis can be performed on the multispheres size from an image stack of about 200µm depth.
Imactiv-3D developed a strategic alliance with
NeoVirTech
that aims to develop a unique platform with both expertise and innovative tools to move virology projects forward with robust data.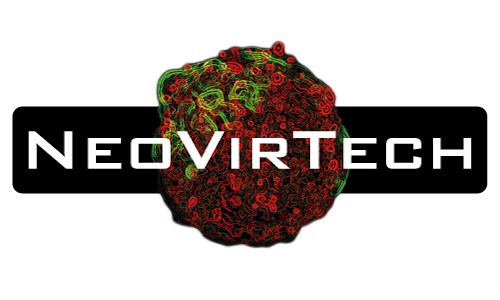 Preclinical evaluation of compounds efficacy on innovative 3D models by monitoring viral infection and replication using state-of-the-art live imaging techniques. A collection of around 30 viruses is available.
3D quantification and visualization of infection (spheroids, organoids, tissues, organs…) combined with staining of a marker of interest. 3D reconstruction for marketing and communication purposes.
Thanks to our close partnership with
D.I.V.A. Expertise
, a CRO specialized in research on human adipose tissue, Imactiv-3D is able to provide new services to deepen the exploration in adipocyte biology, for example: Intra-cellular analysis of
lipid accumulation
:
Differentiated cells percentage
Total intra-cytoplasmic lipid accumulation
Size and number of lipid droplets
Structural characterization and quantification of extracellular
matrix
micro-environment by immunofluorescence imaging:
Imaging (confocal – structured light microscopy)
Segmentation: fibers search algorithm developed in-house for quantification
Skeletonization: Fibers length and thickness
Output: illustration and dataset (fibers length, thickness and quantity)
Beigeing
assay on human preadipocytes: a fast, simple and accurate test to assess your molecules
Automated UCP-1 quantification