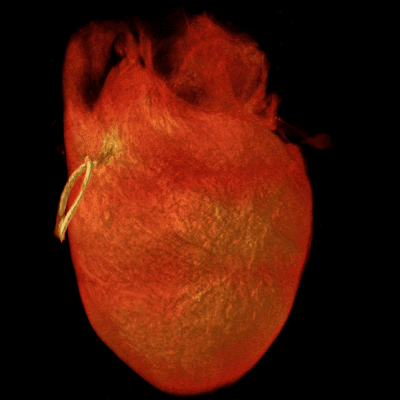 3D ex vivo imaging and characterization of cell death
Your Needs
:
Study of cell death in any organ
Preclinical study of treatment efficacy
Our Solutions
:
Light sheet microscopy after clearing of ex vivo samples
Automated 3D image processing to count necrotic cells in organs
General Procedure
---
Prior to sample collection by Imactiv-3D:
In vivo animal perfusion to label necrotic nuclei (PI)
Formalin fixation of extracted sample
---
Image acquisition:
Staining of ex vivo samples with nuclear dye to label all cells (DRAQ5)
Biopsies of 2.5-mm-diameter regions of interest
Clearing of samples and 3D light sheet microscopy
---
Image processing and joint analysis of both fluorescence channels:
3D image restoration based on denoising and pre-segmentation
3D refined segmentation and quantification
Quantitative analysis of necrosis rate as the ratio: number of necrotic (PI) nuclei⁄total number (DRAQ5) of nuclei
---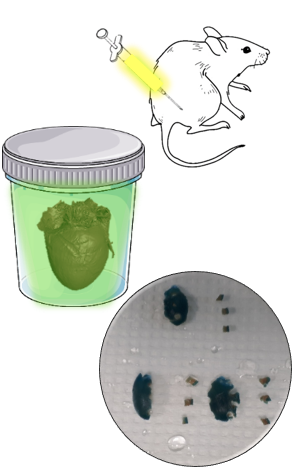 Application example: Quantification of necrosis after myocardial infarction

Definition of regions of interest depending on their distance to the infarct scar. In this study, 21 regions were explored (triplicate in each region).
Analysis of necrotic nuclei percentage in healthy and post-infarct rat hearts.
Regions near the scar showed much more necrotic cells (regions 1 to 3) than the control region (region 4) and than all regions in the healthy heart.