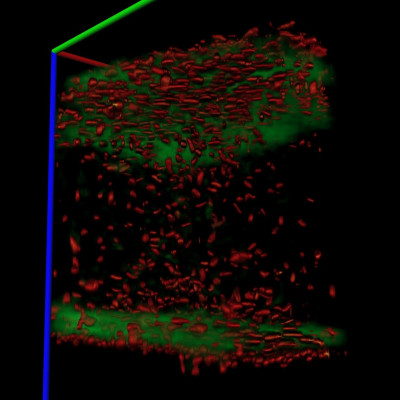 3D imaging of reconstructed skin model
Your Needs
:
Qualify 3D models
Preclinical trials of a compound efficacy on skin structure
Our Solutions
:
Characterize 3D tissue organization over time
Probes or in toto immunofluorescence labeling
Light sheet fluorescence microscopy
Quantification and multiparametric analysis
General Procedure
---
Prior to sample collection by Imactiv-3D:
Sample generation and formalin fixation
---
Tissue processing:
Possibility to label the sample by probes or in toto immunofluorescence
Sample clearing
---
Image acquisition:
Light sheet microscopy, from 1X to 20X magnification
---
Image processing and analysis:
Characterization of cell structure after segmentation: computation of parameters of interest, such as the number of nuclei, the presence of fibers, their morphology, their orientation, the layer thickness…
3D visualization with surface and volume rendering
---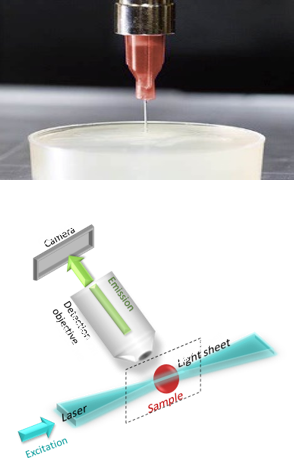 Application example: visualization and monitoring of reconstructed epidermis differentiation.
Aim:3D visualization of reconstructed epidermis and monitoring of morphological changes in nucleus shape during differentiation.
Tissue labeling:

Propidium iodide (red) to monitor nuclei.
Phalloidin (green) to highlight cortical actin within skin cells.

Images acquired using light sheet fluorescence microscopy.
Nuclei volume reconstructed in 3D (right figure).